The Dordogne campsite that gives priority to children
Our campsite pays a particular attention to children, infrastructures to the proposed activities.
If for you the holidays it is also to borrow a good book to the library of the camp-site and to relax on the edge of the swimming pool, your children are harder to satisfy. Do not worry, we have everything planned to occupy them. Discover with us what we reserve for them !
Our children's equipment
Playgrounds for children
Regardless of the pool and the paddling pool, our campsite has two playgrounds where your children can find:
Trampoline
Swing
Game structure
Spring games
slides
Tape-ass …
You are lucky to be in a human-sized campsite. Your children will be able to move safely from one structure to another without any problem.
The mini-golf
We propose you a course of 15 elements. As for all our other children's equipment, the access to the mini-golf is free and we lend clubs and golf balls to the reception of the campsite.
Sports playground
Bowling pitch, football field and volleyball / badminton are also available, free of charge. As for other activities for children, we also lend free balls of petanque, soccer ball, volley ball, rackets and badminton shuttlecock at the campsite reception.
Our other equipment for children
It is essentially at the bar that you can find other games: foosball and pinball free access (but paid) on the terrace. There is also a pool table and a dart board in the bar room but we ask that an adult be present for these games.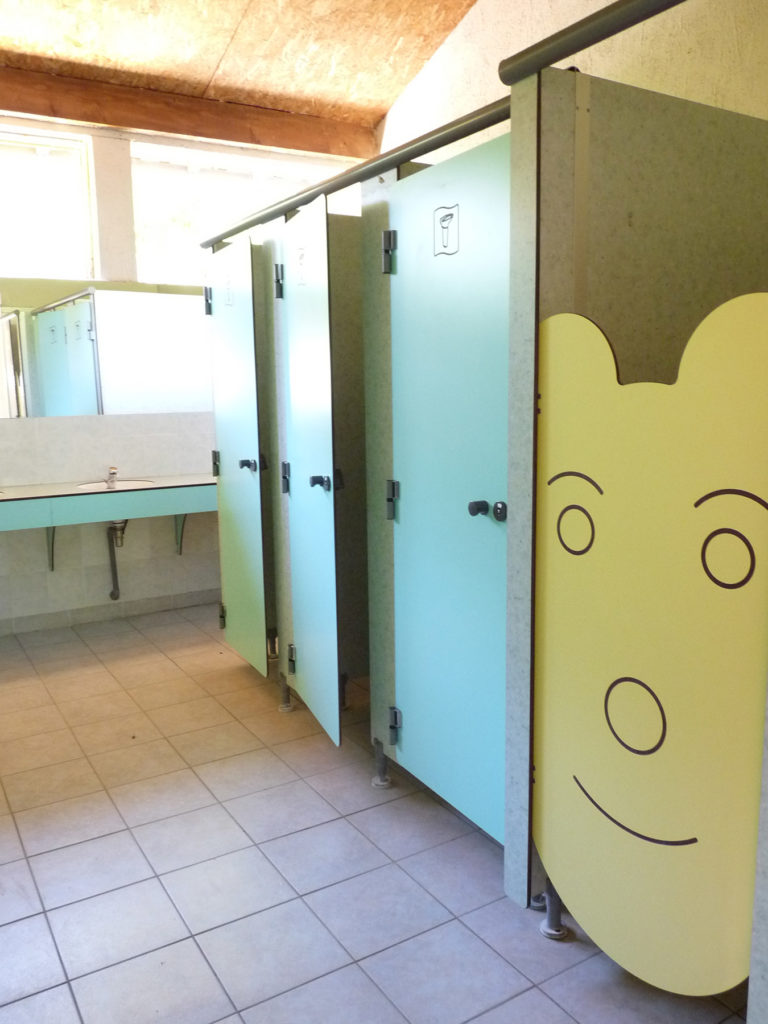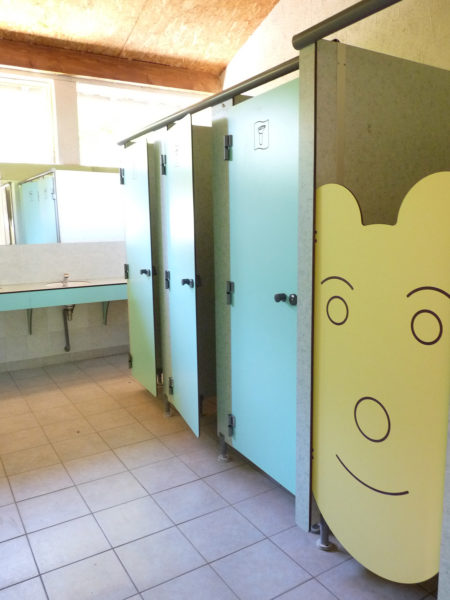 A sanitary block adapted to children
Located in the center of the campsite, near campers' sites, our sanitary block has also been designed for children and families. Here are some of the equipment you can benefit from:
– Nursery area with changing table and small bath
– A lowered urinal
– An individual toilet lowered
– Walk allowing children to reach the washbasin
– Family shower: Shower cabin 2 times larger than the others with 2 showers: one for adults and one for children. This allows you to take a shower at the same time as your child.
Our activities and activities for children
Our campsite is family. In this sense, you will not find a children's club every morning from 10:00 to 12:00 as in large structures. But look closely, your children will not get bored, far from it … Come on, we'll give you a little overview of what you will know in July-August. 
The sports activities
– Football Sunday afternoon: around 15:30. It is not reserved for children but we give them priority. Traditionally, it is done with family and we mix teams. Fun and good spirit guaranteed!
– The mini-Olympiads: they take place on Wednesday afternoons a week on 2 alternating with the treasure hunt (see below). Julien and Michel are preparing some very funny sports competitions. As for football, it is not uncommon for it to be done as a family. It's even more funny when adults and children play together!
– Pony ride: Once a week. Paying activity because it is an equestrian center that comes with ponies offer small tours of camping. But that's really cheap. Last year we were at € 4 a turn.
Of course the children also participate in sports activities for all: hiking, canoeing, petanque, ping-pong, water polo …
Fun activities
– Sunday night Bingo: For everyone too, but children love it. And we have planned lots for them: free admission to parks, small toys etc.
– The children's club on Wednesday morning: animated by Michel or Julien, drawings, paintings or other "Draw is won" will enliven their morning.
– Awakening sense: Michel also plays music. Equipping the children with small simple instruments that he has in shambles, he accompanies them to the singing and the guitar on the most famous rhymes of our childhood. Once a week.
– The treasure hunt: an opportunity for children to test their knowledge of the campsite. And for the winners, would not there be a bag of candy offered to reward them? for the unfortunate losers also, to console them …
– The visit of the cheese dairy: for all the family of course but we noticed a particular interest of the children for the hugging of goats …
Evening entertainment
Of course, they participate in bingo, karaoke, dance evenings, concert nights, themed meals, etc. but a Mini-Disco is devoted to them once a week, usually on Friday at the end of the afternoon. They will discover all the latest hits of the summer! And the older ones too …
But know that we do not only care about children, there is something for everyone. If you want to know everything about all our animations, go to the section animations and evenings.