The relationships between motorhomes and tourism professionals are sometimes complex. Strange … Are not they vacationers like the others?
Camping, especially in Dordogne, is nature. We can not therefore offer you a downtown service offering all the shops nearby. But does this service still exist? Motorhome areas are increasingly sidelined and the prices are very close to ours. Without the hot shower, the pool and the comfortable location. So if in addition we offer bread and groceries, 8 € the stop-home, still hesitate?
 
Practical and functional service area, stone or grass pitches, to choose from
Our service area
We built our service area (Borne Euro-relais) 2 years ago and we tried to think about your comfort.
You can place yourself on the emptying platform without any maneuver and you can leave it in the forward direction. Once on the platform, all you have to do is open the drain cock, an exhaust grille occupies the entire platform.
The terminal is right next door, where you will find:
– A rinse valve
– Filling tap with safety bar to prevent rinsing
– A hatch at the back of the terminal to empty your dirty water tank
Our terminal is free if you decide to spend the night with us.
Our motorhome pitches
We are lucky to have a perfectly flat campsite. We have 4 stone places near the service area. We dedicate these places to motorhomes. Electrical terminals are installed and each place has a nice grass.
We have planned these places stone in case of wet weather before and after season so that you do not get bogged down in the grass. But no misunderstanding! Here, we do not park the motorhomes apart from others. If you want to enjoy a classic camping-caravan site, no problem, you are welcome and for the same price.
Of course you will have access to all the services of the campsite and the toilet block.
Rates & Dispos Motorhome pitch
Daily rates from 12h to 13h

High season


july/augus.

Low season


sept./june

Stop home motorhome
1 night for 2 people without electricity.
arrival after 18h / departure before 10h.
electricity supplement: 3 € / night.

–

8.00 €
Package pitch 1 pers.
12.00 €

8.00 €

Package pitch 1 pers. + electricity
15.00 €
11.00 €
Package pitch 2 pers.
18.00 €

14.00 €

Package pitch 2 pers. + electricity
21.00 €

17.00 €
Extra people 8 years old and +

5.00 €
4.00 €
Child – 7 years old

4.00 €
3.00 €
Child – 2 years old

free
free

Animal




vaccinated, tattooed, leashed

3.00 €
2.00 €

Fridge rental

5.00 €
3.00 €

Rental :




garden furniture // gas stove // fan // highchair // cot / stroller // iron and ironing board

3.00 €
2.00 €

Visitors

3.00 €
2.00 €
Tourist tax :
0.55 € / person / night
(personal exemption – 18 years, seasonal work contract holders, beneficiaries of emergency housing or temporary relocation)
Accepted methods of payment
Bank cards / Transfer / Bank Checks / Cash / Chèques Vacances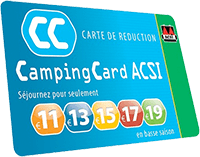 ACSI
card
Package 14 € instead of 19 €
Package 2 pers. + elec. + 1 animal.
Valid from 01/04 to 12/07 and from 29/08 to 30/09