A campsite still in the "camping spirit": Even if we also offer rental accommodation, we like to our camping sites and 40% of our park is still reserved for camping-caravanning. And it will not change!
The campsite originally, the only real one, is a bare site. And even if we recognize the advantages of the rental (that's why we propose), we will continue to offer campsites. For a price that defies any competition! From the hiker traveling alone to the large family, through the motorhome, we adapt our prices.   
Camping pitches
Because the need is not the same between a hiker with his little tent and a family of 5 in a caravan, we have all the sizes of location. The smallest is 80 m² but can be up to 170m². They are clearly delimited by the vegetation and assure you privacy and tranquility.
Our campsite is well wooded, we have locations facing South and other North. Between shade and sun, you have the choice!
Each location has an electrical connection but the outlets are grouped by terminal and there is on average one terminal for 4 locations. Do not forget to pack your extension cord. Do not forget your adapter because almost all of our plugs are European. If need adapters are on sale at the reception.
We also offer drinking water points and collective barbecues everywhere on the campsite and the toilet block is not very far.
Large pitches with shade and sun, drinking water point, electricity terminal and barbecues nearby
You will find that our rates are very cheap for a 3 star campsite in the heart of the Dordogne so close to Sarlat. That's how we see camping. And it's not at the expense of quality, we renovate every year (renewal of electrical terminals this year, renovation of the sanitary block last year …).
If you want to travel light, we rent refrigerators, garden furniture, fans …

I do not forget :
– My extension
– My European adapter
We also offer specific pitches and rates for motorhomes: access the "special motorhome" page.
The toilet block
Close to the sites, it offers space and comfort. We also renovated it last year. We make sanitary cleanliness the number one priority. A full cleaning is done once a day out of season and twice a day in July-August.
Our showers
We have 6 individual showers, 5 classic showers and a "family" shower.
No need token, our showers are free access. There are timers, of course, to avoid wastage but you can stay as long as you want. We trust you. You can also individually adjust the temperature of each shower, according to your comfort. Cold, warm or hot, it's up to you.
Our family shower is a double cabin with 2 showers, one at normal height, the other lower for a child. Ideal for taking a shower with your child!
Washbasins
We have a row of 5 collective sinks and 5 individual sinks. As for showers, they are all equipped with presto individually adjustable temperature. A hairdryer is free access next to the communal washbasins.
The dishes to wash the dishes
The central island of the toilet block consists of 6 sinks for washing dishes with hot water. The sinks are placed in a circle around the pounder. What makes this space more user-friendly and you will find the camping spirit. Water battles forbidden! Unless we do not see you …
Other equipment
We also have:
– 6 toilets including one for children (lowered)
– Nursery area with small bath and changing table
– 3 bins to wash the laundry by hand
– 2 lava linen with tokens (on sale at the reception)
– Free-access freezer for ice cream, ice cubes, etc.
Facilities for people with reduced mobility
All our equipment is accessible to people with reduced mobility. You will find:
– adapted toilet
– Adapted shower
– Accessible dishwasher sink
– Accessible washing machine
– Accessible washing machine
Daily rates from 1pm to 12pm

High season
july/augus.
Low season
sept./june
Package pitch 1 pers.
12.00 €

8.00 €

Package pitch 1 pers. + electricity
15.00 €
11.00 €
Package pitch 2 pers.
18.00 €

14.00 €

Package pitch 2 pers. + electricity
21.00 €

17.00 €
Stop home motorhome
1 night for 2 people without electricity.
arrival after 18h / departure before 10h.
electricity supplement: 3 € / night.
–

8.00 €

Extra people 8 years old and +

5.00 €
4.00 €

Child – 7 years old

4.00 €
3.00 €

Child – 2 years old

free
free

Animal




vaccinated, tattooed, leashed

3.00 €
2.00 €

Fridge rental

5.00 €
3.00 €

Rental :




garden furniture // gas stove // fan // highchair // cot / stroller // iron and ironing board

3.00 €
2.00 €

Visitors

3.00 €
2.00 €
Tourist tax :
0.55 € / person / night
(personal exemption – 18 years, seasonal work contract holders, beneficiaries of emergency housing or temporary relocation)
Accepted methods of payment
Bank cards / Transfer / Bank Checks / Cash / Chèques Vacances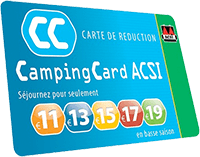 ACSI
card
Package 14 € instead of 19 €
Package 2 pers. + elec. + 1 animal.
Valid from 01/04 to 12/07 and from 29/08 to 30/09
Here you know everything. I did not convince you? For you camping is good when you are young and we have no problem back? You do not see the point of spending 3 hours setting up a tent? All these years to see your parents arguing to mount the awning of the caravan do not make you want to put that back? Do not want to cross the campsite with your roll of toilet paper in your hand?
But you still want to come to us, in the best campsite in Dordogne. Ok, we have what you need: from the canvas bungalow to the Mobil-Home any comfort, while passing by the Tit'home, you will inevitably find your happiness.